SIA Modern Integration Facilities
SIA is located in Lake Geneva, Wisconsin, convenient to both Milwaukee and Chicago. We moved in 1994 from Chicago, where we had been located since 1983, in order to expand and increase our technical capabilities. SIA enjoys modern integration facilities conveniently situated among our leading distributors, specialty vendors, and main OEM's warehouses.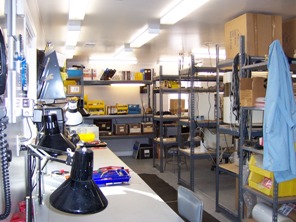 Integration & Staging
Integration and staging of complete networks including domains and workgroups is a specialty. Switches and commercial grade firewalls, such as SonicWAll unified threat management (UTM) equipment can be staged at SIA facilities along with domain controllers, application servers, and client workstations on a guaranteed fee basis.
Application

Application packages covering accounting, graphics design, multimedia, point-of-sale, engineering, and construction areas all can be integrated at SIA facilities prior to customer acceptance, or on-site if need be.
Data Recovery
Data recovery and conversions are another specialty that can be pre-quoted and, in many cases, with guaranteed fees.
Related Components
Also available are a wide variety of high quality LCD monitors and projectors, rack mount cases and enclosures, uninterruptable power supplies (UPS), keyboard-video-mouse (KVM) switches, printers, scanners, point-of-sale equipment, and specialized CAD equipment.